FROZEN CONCENTRATE LIME JUICE
We have a policy, oriented to quality, continuous improvement,
and produce with responsibility and safety.
Component used in the elaboration of juice, nectars, sodas and other drinks.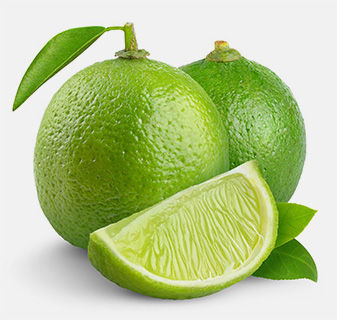 LEGAL DECLARATION
The product doesn't contain edulcorating agent or coloring and it´s pesticide free.
The whole raw and packing material fulfills the regulations of the FDA and Mexican
Official Standards that apply to this concept. This product has been processed, packed
and manipulated under strict sanitary control according to the FDA
(Good Manufacturing Practices, title 21 CFR 110; title 21 CFR 120 HACCP).
Also with a guaranty to be Food Grade and 100% lime origin from Mexico.
GMO´S
Made with materials free of Genetically Modified Organisms (GMO´S acronym in English)
TRANSPORTATION
Freezing closed, protected from dust and moisture vehicle, free from pollution of any kind. Containers are equipped
with a non-toxic, identifiable and traceable seal to avoid any possibility of contamination or physical damage.
TYPE AND UNIT PACKING
Metallic drum, with coating interior phenolic and exterior enamels green
with respective cover and hoop. In their interior it takes three bag polyethylene
It gauges 300-food grade, which doesn't allow the contact give the product with
the drum. With capacity of 250 kg they have a label export with the following data:
product name, company name, net content, batch number, production dates,
and chemical-physical analysis.
LIFE UTILITY
Life span of two years in a tightly closed under freezing atmosphere, and at room
temperature (up to 0ºF)
CHARACTERISTICS
UNIT
REFERENCES
RESULTS BATCH
BRIX CORR.
°
Handbook-USDA
50.0 – 68.0
ACIDITY
%
Handbook-USDA
30.0 – 45.0
RATIO
–
Handbook-USDA
1.5 – 2.2
GPL
–
Handbook-USDA
395 – 400 – 405
DEFECTS
–
Handbook-USDA
20
FLAVOR
–
Handbook-USDA
37 – 38
COLOR
–
Handbook-USDA
37 – 38
SCORE
–
Handbook-USDA
94 – 96
pH
(H+)
Handbook-USDA
2.3 – 2.5
PULP, (V/V)
%
Handbook-USDA
8.0 – 12.0
OIL, (v/v)
%
Handbook-USDA
0.0012 – 0.005
VISCOSITY
cP
Handbook-USDA
500 – 2500
HOWARD MOLD COUNTING
%
Handbook-USDA
0.0 – 6.0
TOTAL COUNT
UFC/gr.
Q.C. Manual for Citrusper
< 500
YEAST
UFC/gr.
Q.C. Manual for Citrusper
< 100
MOLD
UFC/gr.
Q.C. Manual for Citrusper
< 100
COLIFORM
( +/- )
Q.C. Manual for Citrusper
Absent
CHARACTERISTICS
UNIT
REFERENCES
RESULTS BATCH
BRIX CORR.
°
Handbook-USDA
50.0 – 68.0
ACIDITY
%
Handbook-USDA
30.0 – 45.0
RATIO
–
Handbook-USDA
1.5 – 2.2
GPL
–
Handbook-USDA
395 – 400 – 405
DEFECTS
–
Handbook-USDA
20
FLAVOR
–
Handbook-USDA
37 – 38
COLOR
–
Handbook-USDA
37 – 38
SCORE
–
Handbook-USDA
94 – 96
pH
(H+)
Handbook-USDA
2.3 – 2.5
PULP, (V/V)
%
Handbook-USDA
0.0 – 3.0
OIL, (v/v)
%
Handbook-USDA
0.0012 – 0.005
VISCOSITY
cP
Handbook-USDA
100 – 1500
HOWARD MOLD COUNTING
%
Handbook-USDA
0.0 – 2.0
TOTAL COUNT
UFC/gr.
Q.C. Manual for Citrusper
< 500
YEAST
UFC/gr.
Q.C. Manual for Citrusper
< 100
MOLD
UFC/gr.
Q.C. Manual for Citrusper
< 100
COLIFORM
( +/- )
Q.C. Manual for Citrusper
Absent