[:es]
ACEITE ESENCIAL DE TORONJA
El aceite esencial de Toronja (Citrus Paradisi, variedad blanca, roja y rosa) es un producto obtenido mediante medios mecánicos, a partir de frutos frescos y maduros.
Componente utilizado en la elaboración de zumos, néctares, refrescos y otras bebidas; Industria farmacéutica, cosmética, alimentos, productos de limpieza.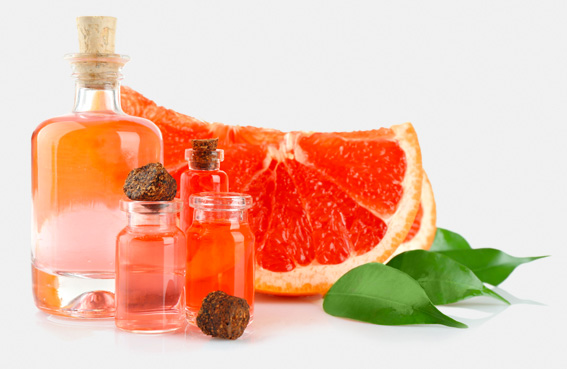 DECLARACIÓN LEGAL
Nuestro producto es completamente natural, no contiene edulcorantes, colorantes, aditivos y está libre de materias extrañas y productos químicos. Nuestro aceite esencial es generalmente considerado como seguro (GRAS). Nuestros aceites tienen calidad alimentaria ya que están destinados al consumo humano y por lo tanto están sujetos a regulaciones nacionales e internacionales. Cumplen con las cantidades autorizadas de límites máximos de residuos (LMR) de plaguicidas que se pueden encontrar en su composición, de acuerdo con las regulaciones nacionales, EE.UU. y UE.
Nuestro aceite esencial es procesado, manipulado y transportado bajo estrictos controles sanitarios de acuerdo con la FDA (Buenas Prácticas de Manufactura, título 21 CFR 110, título 21 CFR 120 HACCP). Tienen una garantía de calidad alimentaria y de origen 100% mexicano.
GMO'S
Fabricado con materiales libres de organismos genéticamente modificados (siglas en inglés de GMO).
TRANSPORTE
El envase debe estar completamente sellado para que nuestro producto permanezca protegido del polvo y la humedad.
Los contenedores están equipados con un sello no tóxico que puede ser identificado y rastreable para evitar cualquier posibilidad de contaminación y daños físicos.
TIPO Y UNIDAD DE EMPAQUE
Tambores cerrados metálicos, con revestimiento interior fenólico de calidad alimenticia y esmaltes exteriores de color gris oscuro, . El contenido es 180 Kg neto. El producto debe ser etiquetado como líquido inflamable (UN 1993). El producto tiene una etiqueta que incluye los siguientes datos: nombre de la empresa, nombre del producto, fecha de producción, fecha de caducidad, número de lote, porcentaje de aldehídos, condiciones de almacenaje y peso neto.
VIDA ÚTIL
El aceite esencial puede conservarse almacenado a temperatura ambiente durante 2 años desde la fecha de envasado. Se ha introducido nitrógeno durante el envasado para desplazar el aire e impedir la oxidación. Si el bidón es abierto, recomendamos consumir el producto antes de dos meses desde la apertura. Si se quiere mantener la fecha de consumo preferente recomendada, solamente habrá que crear una atmosfera interna inerte introduciendo nitrógeno de nuevo.
CARACTERÍSTICAS
UNIDAD
REFERENCIAS
RESULTADOS DE LOTES
ALDEHÍDOS
%
Handbook-USDA
0.9 – 1.6
REFRAX ÍNDICE
–
Handbook-USDA
1.4740 – 1.4785
GRAVEDAD ESPECÍFICA
–
Handbook-USDA
0.847 – 0.858
* WAXS
%
Handbook-USDA
0.0 – 3.0%
COLOR
–
Método Interno Citrusper
Claro ámbar – Rojo claro
CARACTERÍSTICAS
UNIDAD
REFERENCIAS
RESULTADOS DE LOTES
ALDEHÍDOS
%
Handbook-USDA
0.9 – 1.5
REFRAX ÍNDICE
–
Handbook-USDA
1.4740 – 1.4785
GRAVEDAD ESPECÍFICA
–
Handbook-USDA
0.847 – 0.858
* WAXS
%
Handbook-USDA
0.0 – 3.0%
COLOR
–
Método Interno Citrusper
Claro ámbar
[:en]
CONVENTIONAL & ORGANIC
COLD PRESSED OIL
Grapefruit oil is a product obtained by mechanical means from fresh and ripe fruits.
The extraction consists of an initial puncture and a subsequent centrifugation for the oil and water phase separation.
Component used in the elaboration of juices, nectars, soft drinks and other kinds of beverages; pharmaceutical, cosmetic, food and cleaning products industries.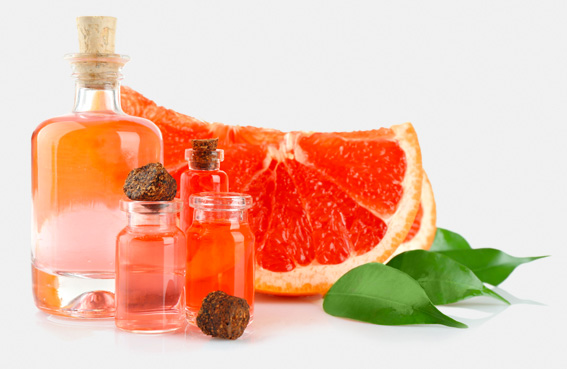 LEGAL DECLARATION
Our product is completely natural, it does not have sweeteners, colorants or additives. Besides, it is free of foreign matter and chemical products. Our essential oil is generally considered as safe. (GRAS). We offer high quality oils since they are intended for human consumption. Therefore, they are subject to national and international regulations. They meet the maximum residue limit (LMR, by its Spanish acronym) of pesticides in their composition in accordance with the national, USA and EU regulations.
Our essential oil is processed, handled and transported under strict sanitary controls in accordance with the FDA (Good Manufacturing Practices, title 21 CFR Part 110, title 21 CFR 120 HACCP.) They have food quality assurance and are of Mexican origin (100%).
GMO'S
Made with materials free of Genetically Modified Organisms.
TRANSPORT
The container must be completely sealed, so that our product remains protected from dust and moisture. The containers are equipped with a non-toxic
seal that can be identified and tracked in order to avoid any possibility of contamination and physical damage.
TYPE AND UNIT PACKING
Closed metal drums with a food grade phenolic inner lining and dark grey external enamels. Net content: 180 Kg. This product must be labeled as "flammable liquid." (UN 1993).
The product has a label including the following data: company name, product name, date of production, expiration date, batch number, % of aldehydes, storage conditions and net weight.
SHELF LIFE
The essential oil may be stored at room temperature for 2 years from the packaging date. Nitrogen has been introduced during the packaging in order to displace the air and prevent oxidation.
If the drum is opened, we recommend you to consume the product in less than two months from the date it was opened. If you want to maintain the recommended best-before date, you just have to create an internal inert atmosphere by introducing nitrogen again.
CHARACTERISTICS
UNIT
REFERENCES
RESULTS BATCH
ALDEHYDES
%
Handbook-USDA
0.9 – 1.6
REFRAX INDEX
–
Handbook-USDA
1.4740 – 1.4785
SPECIFIC GRAVITY
–
Handbook-USDA
0.847 – 0.858
* WAXES
%
Handbook-USDA
0.0 – 3.0%
COLOR
–
Citrusper Internal Method
Clear Amber – Clear Red
CHARACTERISTICS
UNIT
REFERENCES
RESULTS BATCH
ALDEHYDES
%
Handbook-USDA
0.9 – 1.5
REFRAX INDEX
–
Handbook-USDA
1.4740 – 1.4785
SPECIFIC GRAVITY
–
Handbook-USDA
0.847 – 0.858
* WAXES
%
Handbook-USDA
0.0 – 3.0%
COLOR
–
Citrusper Internal Method
Clear Amber
[:]