CONVENTIONAL & ORGANIC
FROZEN CONCENTRATE LIME JUICE
Our lime juice is obtained by removing water from ripe, healthy and fresh persian limes (Citrus Latifolia). The pulp is removed by
filtration, then the juice is evaporated to concentrate, pasteurized at a temperature of 98°C and preserved by freezing it at -18°C.
Component used in the elaboration of juices, nectars, soft drinks and other beverages.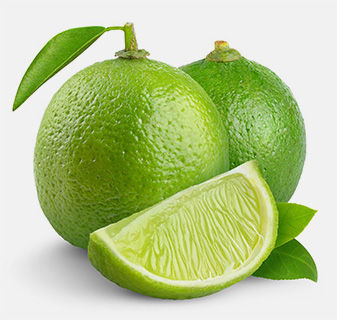 LEGAL DECLARATION
Our product is completely natural, it doesn't contain sweeteners, coloring, aditives and it's free of foreign matter and chemical products. All of our products have food grade quality since they are destined for human consumption and thus are subject to national and international regulations. They comply with the authorized quantities of maximum residue limits (LMR) of pesticides that can be found in its composition, according to national regulations, USA and EU.
Our concentrated orange juice is processed, handled and transported under strict sanitary controls according to the FDA (Good Manufacturing Practices, title 21 CFR 110; title 21 CFR 120 HACCP). Also it comes with a guarantee to be food grade and of 100% mexican origin.
GMO'S
Made with materials free of Genetically Modified Organisms.
TRANSPORT
The container must be completely sealed, so that our product remains protected from dust and moisture. The containers are equipped
with a non-toxic seal that can be identified and traceable to avoid any chance of contamination and physical damage.
TYPE AND UNIT PACKING
Closed stainless steel drums with food grade phenolic inner coating, and green enamel on the outside with their respective lid and rim. Capacity of 250kg, they also have a label that includes the following data: company name, product name, production date, expiration date, batch number, corrected brix, relation, storage conditions and net weight.
SHELF LIFE
Shelf life of two years from manufacturing date. This product must be stored at a temperature low enough to preserve the physicochemical characteristics (-18°C).
CHARACTERISTICS
UNIT
REFERENCES
RESULTS BATCH
*BRIX CORR.
°
Handbook-USDA
50.0 – 68.0
ACIDITY
%
Handbook-USDA
30.0 – 45.0
RATIO
–
Handbook-USDA
1.5 – 2.2
GPL
–
Handbook-USDA
395 – 405
DEFECTS
–
Handbook-USDA
20
FLAVOR
–
Handbook-USDA
37 – 38
COLOR
–
Handbook-USDA
37 – 38
SCORE
–
Handbook-USDA
94 – 96
pH
(H+)
Handbook-USDA
2.3 – 2.5
PULP, (V/V)
%
Handbook-USDA
8.0 – 12.0
OIL, (v/v)
%
Handbook-USDA
0.0012 – 0.005
VISCOSITY
cP
Handbook-USDA
500 – 2500
TOTAL COUNT
UFC/gr.
Q.C. Manual for Citrusper
< 500
YEAST
UFC/gr.
Q.C. Manual for Citrusper
< 100
MOLD
UFC/gr.
Q.C. Manual for Citrusper
< 100
COLIFORM
–
Q.C. Manual for Citrusper
Absent
CHARACTERISTICS
UNIT
REFERENCES
RESULTS BATCH
*BRIX CORR.
°
Handbook-USDA
50.0 – 68.0
ACIDITY
%
Handbook-USDA
30.0 – 45.0
RATIO
–
Handbook-USDA
1.5 – 2.2
GPL
–
Handbook-USDA
395 – 405
DEFECTS
–
Handbook-USDA
20
FLAVOR
–
Handbook-USDA
37 – 38
COLOR
–
Handbook-USDA
37 – 38
SCORE
–
Handbook-USDA
94 – 96
pH
(H+)
Handbook-USDA
2.3 – 2.5
PULP, (V/V)
%
Handbook-USDA
0.0 – 3.0
OIL, (v/v)
%
Handbook-USDA
0.0012 – 0.005
VISCOSITY
cP
Handbook-USDA
100 – 1500
TOTAL COUNT
UFC/gr.
Q.C. Manual for Citrusper
< 500
YEAST
UFC/gr.
Q.C. Manual for Citrusper
< 100
MOLD
UFC/gr.
Q.C. Manual for Citrusper
< 100
COLIFORM
–
Q.C. Manual for Citrusper
Absent